August 10, 2021
The Rose Garden Backstory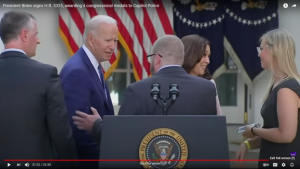 The story about what actually happened in the Rose Garden was reported last night by CNN:
"As President Joe Biden welcomed the families of police officers who had defended the US Capitol on January 6 to the Rose Garden last week, a legal battle was pending before the Police and Firefighters' Retirement and Relief Board in Washington on behalf of Erin Smith, the widow of Metropolitan Police Officer Jeffrey Smith, who died by suicide days after the Capitol attack. And Erin Smith's attorney was intent on getting a word with the President to tell him about their fight."
"I told him, it's a good first step that you're acknowledging Jeffrey Smith and Howard Liebengood's sacrifice, but the gold medal is not enough," GWPLLC  David P. Weber told CNN. "I asked the President, did you know that they took away their wives' health insurance and I'm fighting to have Jeffrey Smith's [suicide] ruled a line of duty death?"
Now the fight gets taken to the Police and Fire Relief and Retirement Board of the District of Columbia.  During this time, we will be pressing our case in the media and with policy makers to ensure that the American people understand the sacrifice of Police Officer Jeffrey L. Smith.